97,777 YouTube Subscriber Livestream Q&A (links & resources)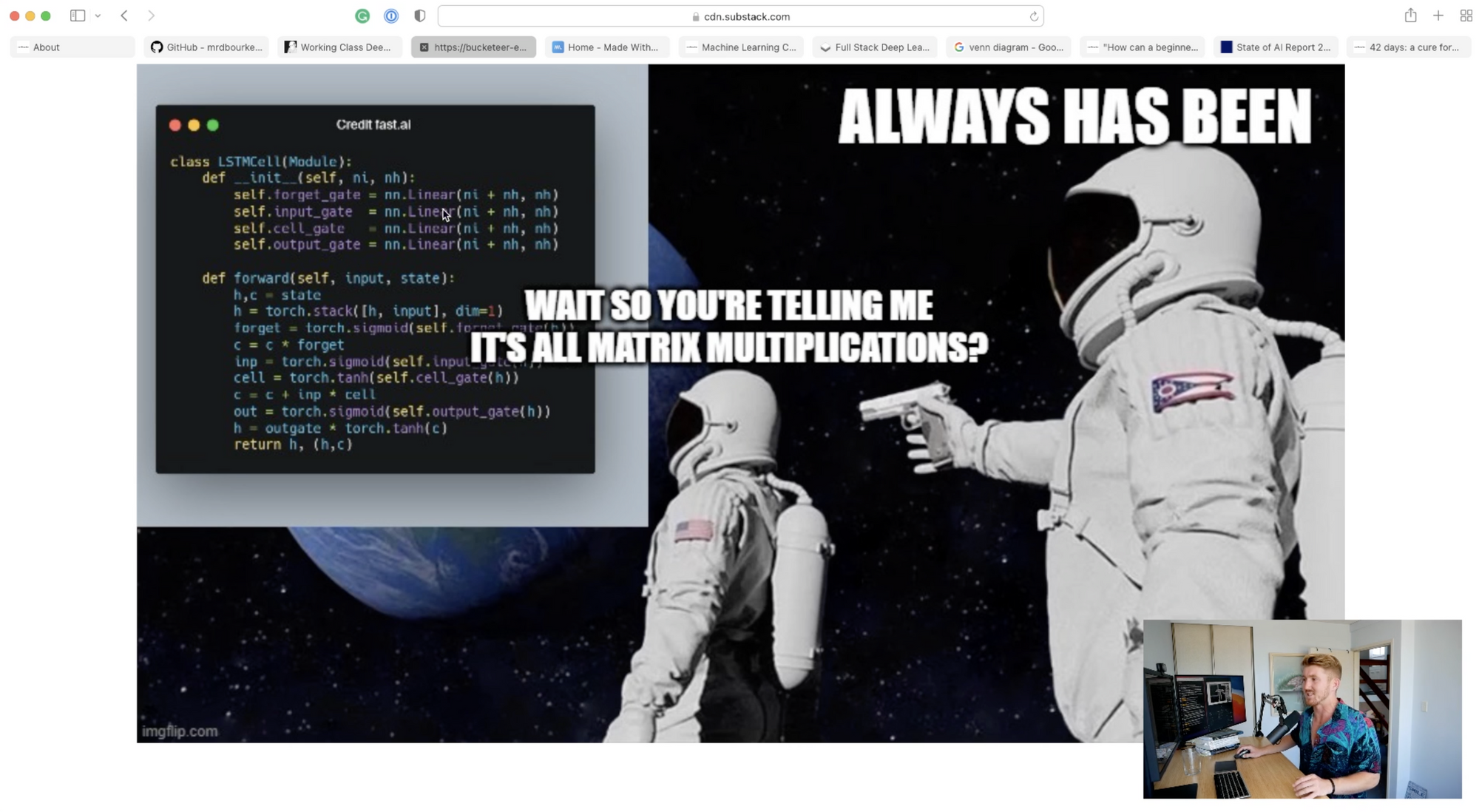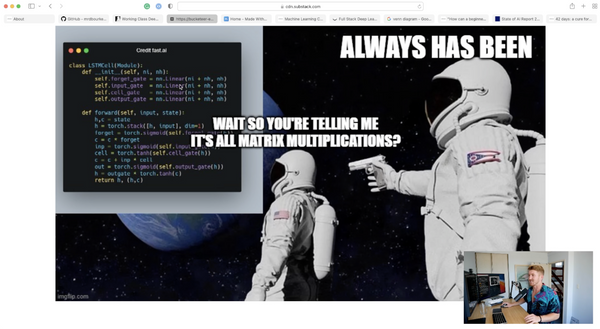 Why 97,777?
I love the number 7.
I have a dog called Seven and one day my friend and I won $1500 on double diamond sevens playing perfect pairs at the casino. Since then, seven's been my number.
To celebrate such a beautiful number (I missed 77,777), I hosted a livestream Q&A, answering saved questions and questions from the chat.
The timestamps to all questions are listed below.
There was also a bunch of materials I referenced during the video, I've linked them below the timestamps.
To all of the 97,777 people around the world watching my videos, thank you thank you thank you.
I've got something fun in the works for 100,000!
0:00 - Intro & hello
3:39 - Preface & warning (I don't know much)
5:07 - How to ask a good question
5:25 - Q&A start
6:31 - What was your former job before machine learning?
8:47 - Do I have a date of release for the hard cover of my book?
9:04 - How to adapt to a Lindy life?
11:56 - How to overcome laziness before a workout or exercise or even a walk?
14:03 - Tidbits on eating quality food?
15:11 - Why did you get into programming?
16:19 - Best way to learn time series prediction for the stock market?
20:30 - What needs to be considered for full-stack ML applications?
23:28 - Advice for a computer science student (poor question)
25:40 - How to start a job before you have it
28:49 - Will you do a state of AI video this year?
29:50 - Will ML and AI influence bureaucracy?
31:48 - I'm an 13 years old, am I too young to learn machine learning?
33:35 - I'm an ex-Google machine learning engineer, how can I make ML videos on YouTube?
35:53 - Ken Jee stops by
36:15 - Have I worked on distributed apps? And blockchain singularity net (I don't know what this is)
40:05 - Can anyone take fastai courses?
41:12 - How should I improve my coding skills?
44:10 - How important is domain specific knowledge and picking the right models?
46:57 - Discuss the full ML lifecycle, including data collection to deployment
48:28 - Is NLP a good start project?
50:15 - Do data scientists write less code than software developers?
52:33 - Will there be object detection or advanced ML courses in the future
54:52 - Is math necessary for machine learning?
57:41 - What projects are you working on?
58:19 - Rant on career vs family
1:01:07 - What book do you recommend for CNN's?
1:01:36 - Should I interview for ML intern starting position?
1:02:34 - How to enter into bioinformatics for non-biology students?
1:03:02 - Do you plan on making more advanced TensorFlow courses?
1:03:30 - How do you balance social life and learning?
1:05:04 - Have you ever been in a low point? If yes, how did you come out of it
1:08:49 - Can you advise me on my final year project?
1:09:12 - What are you plans in the mid/long run?
1:11:08 - Do you plan on staying on your current job for a while? Or taking other opportunities?
1:14:14 - Outra + Thank you thank you thank you
Resources mentioned